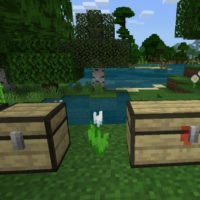 Chest Texture Pack for Minecraft PE
Version MCPE: 1.16.0 - 1.20.41
Download
Download Chest Texture Pack for Minecraft PE: change the appearance of the most ordinary objects and evaluate how stylish they have become.
What is interesting in Chest Texture Pack?
Minecraft PE has a lot of irreplaceable and very useful items that players use daily. Therefore, the authors of Chest Texture Pack decided to add variety to the standard look of one of them.
Users will be able to use the new options not only as a functional object, but also to decorate their homes. About 10 different types and shades will perfectly fit into any space, while not losing their functional features.
New Colours
It is worth noting that the process of creativity and survival cannot do without these irreplaceable items. On any map, developers try to arrange them as much as possible to help players in their passage or to encourage courage.
At the same time, Minecraft PE has only one color for chests. In this Chest Texture Pack update, players will be able to choose from 8 new options at once. They correspond to different shades of wood.
There are objects made of oak, acacia, birch, and tropical trees. To change the color, users need to click on the gear in the settings. After that, a menu will open and a selection will be available. All new models will perfectly harmonize with any space and create a unique atmosphere.
Military
In this Chest Texture Pack update, players would not have to change or customize anything. The fact is that the standard appearance of the item will be automatically changed after installation. The chest in Minecraft PE will look very stylish and unusual.
This object will be executed in a military style. And it will become indispensable when creating maps and locations on this subject. And fans of this style will also like it. Create a unique and memorable style in your space with just one change.
What if the Chest Texture Pack does not work?

Try to activate the experimental game mode.

Can I use it on servers?

Yes, you are free to use it on public servers.

How do I install this texture pack?

The file is in .mcpack extension, so just tap on the file to automatically install the modification.
Download Chest Texture Pack for Minecraft PE