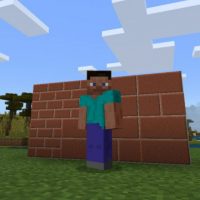 Brick Texture Pack for Minecraft PE
Version MCPE: 1.16.0 - 1.19.63
Download
Download Brick Texture Pack for Minecraft PE: create amazing buildings that will look amazing.
What is new in Brick Texture Pack?
Most buildings currently use a building material such as brick. Some houses consist entirely of it, and somewhere it is used as a decorative element.
In any case, it is an important component of the cubic world. The creators of Brick Texture Pack offer Minecraft PE users many different variants of this building block.
Textures and designs are suitable for any structure that the hero wants to create. Any ideas can be implemented thanks to this texture pack.
Graphics
Not only does the standard red brick get a new look. The changes also affected sandstone and quartz blocks. Stunning graphics are the hallmark of this update for Minecraft PE. The blocks look amazingly realistic and beautiful. Creating buildings from them is very interesting and entertaining.
The Brick Texture Pack update is suitable for those players who like to personally design buildings. Create them with your own hands. The blocks received not only a new design and details but also began to look much more beautiful.
Now the buildings will definitely not disappoint their owners, because the level of decorative perfection will become truly high.
New features
A wide selection of shapes and textures is available to every Minecraft PE user. Now the buildings will look just great. Any ideas that the hero decides to bring to life are possible with this wonderful update.
It is amazing how many incredible ideas players can bring to life with the Brick Texture Pack update. The hero will be able to build a house, a fortress, or even a castle with the help of new, amazingly beautiful blocks.
There are no barriers to the imagination anymore, just download the update and start making your dreams come true.
Can this texture pack be run in a multiplayer game?

Yes, for this it is enough just to be the owner of the card and install this modification on it.

Can I use it on servers?

Yes, you are free to use it on public servers.

How to install these textures?

Download and open it in Minecraft PE.
Download Brick Texture Pack for Minecraft PE