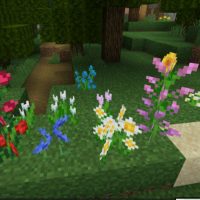 Better Foliage Texture Pack for Minecraft PE
Version MCPE: 1.14.0 - 1.20.41
Download
Download Better Foliage Texture Pack for Minecraft PE: add bright and rich colors to the familiar world.
What is new in Better Foliage Texture Pack?
The world of Minecraft PE is distinguished by a large number of different types of flowers, trees, and plants. The developers of the Better Foliage Texture Pack decided to add more realism and brightness to this component of the cubic world.
A very pleasant and memorable atmosphere is created in the game space, thanks to the new update. Added movement and new shades of foliage, as well as several types of flowers and plants.
By the way, foliage animation has been added for an even more natural and realistic picture.
More Colours
In this update for the Better Foliage Texture Pack, the developers have given users the option to choose between round and bushy leaves on trees. This can be done in the texture pack settings menu.
By the way, each type of flower received several new options with one or more buds. Water lilies, ferns, and sugar cane will look just amazing. This creates an amazing atmosphere in Minecraft PE.
Leaves will now fall from the trees and ordinary and golden apples can grow on them.
Realistic Environment
This modification completely changes the natural environment in Minecraft PE. The author of the Better Foliage Texture Pack has even added special types of trees that will create the feeling of an autumn forest.
Added a function that will change the color of the foliage depending on the biome in which this tree grows. By the way, the animation of leaves has also been added, so that the plants will now look exactly like the real ones.
Creating your own world that will amaze everyone with its beauty, the brightness of colors, and realism has now become much easier. Users just need to download the file and enjoy the incredible world surrounding the hero.
How to install these textures?

Download and open it in Minecraft PE.

Can I use it on servers?

Yes, you are free to use it on public servers.

Can this texture pack be run in a multiplayer game?

Yes, for this it is enough just to be the owner of the card and install this modification on it.
Download Better Foliage Texture Pack for Minecraft PE