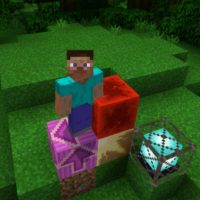 BDoubleo Texture Pack for Minecraft PE
Version MCPE: 1.2.0 - 1.20.41
Download
Download BDoubleo Texture Pack for Minecraft PE: create your world using elements from the famous YouTube channel.
What is interesting in BDoubleo Texture Pack?
Many Minecraft PE users are becoming quite popular since they have their style of play. One of these players is Bdoubleo, which already has more than a million subscribers.
Naturally, they all want to create the same world as their idol. With BDoubleo Texture Pack, every player will have this opportunity. The update has a new look of many blocks and objects, which will give the impression that the hero is on the channel of a famous YouTuber.
Main Features
The authors of the BDoubleo Texture Pack have added a lot of beautiful and high-quality textures to this update. All this will help players create their world, but with famous elements.
In Minecraft PE, terracotta blocks are replaced with tiles or floor tiles. It can be perfectly used in construction.  The authors improved the appearance of blocks, wood, wheat, and objects.
In the surrounding world, changes have touched the grass, now it will have three different textures. Even the main head of the character has been changed, now it looks cleaner and straighter.
This update is suitable for all players who want to qualitatively change the game space.
Graphics
In a cubic world, a lot depends on what the game space looks like. For many users, Minecraft PE must be constantly changing and filled with new ideas.
In this update for BDoubleo Texture Pack, the creators have completely changed the wooden and stone blocks. Excellent drawing of details and excellent graphics distinguish this modification from other similar ones.
By the way, initially, these textures were used when shooting instructional videos, so they may be well known to many users. And now they are also available for use in their own game space.
How to install these textures?

Download and open it in Minecraft PE.

Can I use it on servers?

Yes, you are free to use it on public servers.

Can this texture pack be run in a multiplayer game?

Yes, for this it is enough just to be the owner of the card and install this modification on it.
Download BDoubleo Texture Pack for Minecraft PE