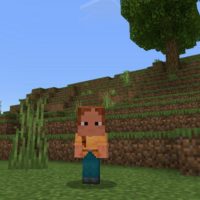 Baby Texture Pack for Minecraft PE
Version MCPE: 1.17.0 - 1.20.32
Download
Download Baby Texture Pack for Minecraft PE: change the appearance of the player, make him cute and cartoon, while keeping his vanilla appearance.
What is interesting in Baby Texture Pack?
Every time the update developers come up with new ways to diversify the gameplay and keep the interest of Minecraft PE users at a fairly high level. They offer to use unusual blocks in the cubic world, improve the characteristics of weapons and armor, or, as in Baby Texture Pack, change the appearance of the player.
As it becomes clear from the name of this update, the model of the hero will be reduced, and his appearance will become very cute and attractive. It is worth noting that such changes do not affect other aspects of the gameplay in any way, they will remain unchanged.
Baby Player
You can surprise your friends or other players in the Minecraft PE multiplayer mode in a variety of ways. Of course, you can put on powerful armor or try on a superhero costume, but no one will expect such changes that become available after installing Baby Texture Pack.
Now the height of the hero will not exceed even the height of one block, while his head will be much larger than the trunk, and huge eyes will make the appearance incredibly pleasant and even cartoon. Use all the chances to have great fun with your friends in your favorite game.
Bebe
Another update option for Baby Texture Pack has a similar effect. The hero will be smaller than a sheep, but still bigger than a chicken. Although not by much. All other aspects of the gameplay in Minecraft PE will be completely preserved, except for such an unusual appearance.
It is worth noting that this add-on also works in multiplayer mode, so players can team up with friends and change their appearance. Believe me, such changes will not go unnoticed and will greatly surprise everyone around you.
What if the Baby texture pack does not work?

Try to activate the experimental game mode.

Can I use it on servers?

Yes, you are free to use it on public servers.

How do I install this texture pack?

The file is in .mcpack extension, so just tap on the file to automatically install the modification.
download anchor
Download Baby Texture Pack for Minecraft PE