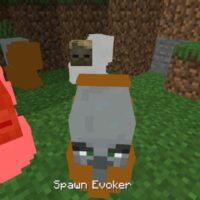 Skibidi Toilet Texture Pack for Minecraft PE
Version MCPE: 1.14.0 - 1.20.15
Download
Download Skibidi Toilet Texture Pack for Minecraft PE: have fun with your friends, and change the appearance of familiar creatures in the cubic world.
Skibidi Toilet Texture Pack for Minecraft Bedrock Edition
You can add variety to Minecraft PE in a variety of ways. Another option is offered to users by the authors of the Skibidi Toilet Texture Pack. They decided to replace the usual inhabitants of the cubic world with someone more interesting.
It is worth noting that it will still be possible to recognize mobs, they will keep their heads, but they will not have the rest of their body parts. Instead of them, the most ordinary toilet will appear. Such an interesting combination first appeared in the videos of the same name on the Internet, but then just a man's head was sticking out of it, now there is a version adapted to the atmosphere of the game.
Main Features
It will be useful for players who install the Skibidi Toilet Texture Pack to know that only hostile mobs have received changes, and not even all of them. At the same time, friendly and passive creatures will look as usual in Minecraft Bedrock Edition.
But if a player meets, for example, a creeper or a zombie, then all the changes will be immediately noticeable. By the way, the first one also received red eyes from the creators.
Opportunities
After installing Skibidi Toilet Texture Pack, the world of Minecraft PE will change a lot, because the mobs familiar to players will be replaced by unusual creatures. And this will happen not only in the Upper World but also in the Ender dimension.
Of course, the funny appearance will not affect the mechanics of the behavior of creatures in any way, they will remain as dangerous and will retain all their skills and will certainly attack the heroes.
Gameplay
Every player who installs the Skibidi Toilet Texture Pack will have the opportunity to change something in Minecraft PE, to influence how the creatures around them will look.
It is also a great chance to make fun of unsuspecting friends because the appearance of mobs will be quite funny.
What if the Skibidi Toilet Texture Pack does not work?

Try to activate the experimental game mode.

Can I use it on servers?

Yes, you are free to use it on public servers.

How do I install this texture pack?

The file is in .mcpack extension, so just tap on the file to automatically install the modification.
download anchor
Download Skibidi Toilet Texture Pack for Minecraft PE