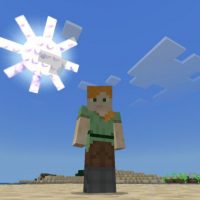 Lego Texture Pack for Minecraft PE
Version MCPE: 1.16.0 - 1.20.41
Download
Download Lego Texture Pack for Minecraft PE: feel like a hero of the most famous designer in the world and appreciate how the space around has changed.
What is interesting in Lego Texture Pack?
Currently, it is difficult to find a person who has not heard or played this world-famous constructor. There are an incredible number of different options for sets, ways of using.
It has long been not just an educational toy for children, but a whole industry, including many different products created on its basis. Recently, a film based on the adventures of one of the characters was even released.
Therefore, the authors of the Lego texture pack decided to transfer this famous atmosphere to the world of Minecraft PE. And they did it in the best way, because the cubic world has never been so unusual.
ARMOP
As soon as the user enters a new world, it becomes noticeable how much the space around has changed. The sun is shining over  head of the Steve, which seems to have been created from small details. It even shows their famous texture.
It is hard to believe, but the cubic world will become even more square. Many blocks will look like parts of the famous constructor. This will create a very unusual and interesting atmosphere in Minecraft PE.
With this Lego Texture Pack update, every player will have the opportunity to feel part of a famous story and create something new in the familiar world.
A Rock Made of Plastic
This Lego Texture Pack update is complemented by a wonderful ray tracing feature. Thanks to her, the world of Minecraft PE will look even more realistic and voluminous.
Colors and shades will become smoother and softer. In such a space, you will want to stay for a long time and evaluate all the changes that the authors created with great interest.
Go to a new world right now and try to create your own unique space.
What if the Lego Texture Pack does not work?

Try to activate the experimental game mode.

Can I use it on servers?

Yes, you are free to use it on public servers.

How do I install this texture pack?

The file is in .mcpack extension, so just tap on the file to automatically install the modification.
Download Lego Texture Pack for Minecraft PE