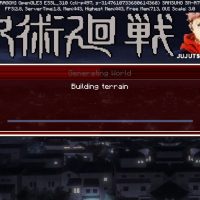 Jujutsu Kaisen Texture Pack for Minecraft PE
Version MCPE: 1.18.0 - 1.19.63
Download
Download Jujutsu Kaisen Texture Pack for Minecraft PE: create a real anime atmosphere in the cubic world.
What is interesting in Jujutsu Kaisen Texture Pack?
Many Minecraft PE users are also manga fans. Jujutsu Kaisen Texture Pack was created just for them because with its help users can completely change the entire interface.
It is worth noting that the anime of the same name is a story in which demons feed on people, and those, in turn, do not even suspect it. The design is dominated by various shades of red.
This will create a unique atmosphere of Japanese cartoons and comics for cube world players.
New view
Already starting from the download process, users can notice that the interface of Minecraft PE has changed a lot. Players will see an image of the main character of the original story, as well as its name in Japanese.
The author of Jujutsu Kaisen Texture Pack has completely replaced all the buttons. They will look more aggressive and gloomy. Opening the Inventory immediately catches the eye that the background has become dark red.
This creates a real anime atmosphere and allows you to update the look of your favorite game. It is worth noting that in Survival Mode, the scales of health and experience have been changed.
Graphics
The author of Jujutsu Kaisen Texture Pack managed to create a completely new impression of the gameplay by changing the Minecraft PE interface.
Gloomy tones of red color create the atmosphere that reigns in the anime of the same name. The main storyline of which is the confrontation of people with demons who are trying to destroy them.
This update is undoubtedly suitable for all fans of Japanese culture. And for those players who have not heard about this direction, it will allow you to diversify the gameplay due to the updated game menu. Take advantage of new opportunities right now.
What if the Jujutsu Kaisen Texture Pack does not work?

Try to activate the experimental game mode.

Can I use it on servers?

Yes, you are free to use it on public servers.

How do I install this texture pack?

The file is in .mcpack extension, so just tap on the file to automatically install the modification.
Download Jujutsu Kaisen Texture Pack for Minecraft PE