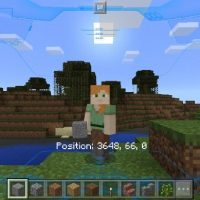 Halo Texture Pack for Minecraft PE
Version MCPE: 1.0.0 - 1.20.15
Download
Download Halo Texture Pack for Minecraft PE: feel like a real space invader, update the interface and enjoy new features.
What is interesting in Halo Texture Pack?
Thanks to this update, Minecraft PE users will be able to feel like heroes of real space adventures. Usually in such stories, the characters wear ultramodern helmets that allow them to have all the necessary information in front of them.
In the Halo Texture Pack, users will be able to choose the color of the interface that they will see in front of them during the game. This will create a futuristic and ultra-modern atmosphere in the cubic world.
Interface
The game of the same name, which served as the basis for the creation of the Halo Texture Pack, is very popular among users. Its participants represent the image of space invaders, on the way of which there are many different challenges.
Now the heroes of Minecraft PE will be able to feel like one of them. This is made possible thanks to the updated interface. It will be a kind of taskbar and information that is seen by those who wear fantastic space helmets.
Opportunities
The authors of the Halo Texture Pack offer players 3 colors to choose from. These are blue, green, and red shades. The indicators of respiration, hunger, and health will be changed on the screen.
And in the upper left corner, a small copy of the hero himself will be displayed, which will completely repeat him and everything he holds in his hands and puts on.
This update will allow players to transform the world of Minecraft PE and make it more modern and fantastic. You can create an atmosphere of intergalactic travel and feel like a character in a famous story right now.
Embark on a journey, and new opportunities will help you have all the necessary information in front of your eyes and feel like a real astronaut.
What if the Halo Texture Pack does not work?

Try to activate the experimental game mode.

Can I use it on servers?

Yes, you are free to use it on public servers.

How do I install this texture pack?

The file is in .mcpack extension, so just tap on the file to automatically install the modification.
download anchor
Download Halo Texture Pack for Minecraft PE