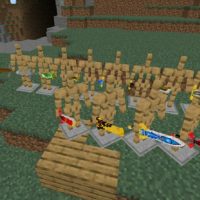 Genshin Impact Texture Pack for Minecraft PE
Version MCPE: 1.16.0 - 1.20.15
Download
Download Genshin Impact Texture Pack for Minecraft PE: feel like a real warrior from anime, try out various blades and swords in action.
What is interesting in Genshin Impact Texture Pack?
Every Minecraft PE user does not mind getting more features that will allow players to deal with opponents faster and more efficiently. And if such items also have an interesting appearance, it will make the process of using even more sense.
This is exactly what will happen if you download Genshin Impact Texture Pack. The heroes will have several very unusual items at their disposal, created based on the anime of the same name.
Description
For players not to get bored and always show interest in the gameplay, new features, and territories appear in Minecraft PE. But something remains unchanged for a long time.
The appearance of weapons and their variants have not changed in the cubic world for a long time. From the moment of its first appearance until now. The authors of Genshin Impact Texture Pack decided not just to add new types of weapons but also to make them similar to those used in the famous anime.
Thus, heroes can feel more confident on the battlefield and also restore their strength or get effects using these items.
Variants
As you know, there are a huge number of diverse characters in anime. Many of whom are forced to constantly use various weapons. Each of the items is associated with one or another hero.
Now Minecraft PE players can feel like one of them, using items from the Genshin Impact Texture Pack. Swords, blades, and cutters are made in the best traditions of the genre to create the atmosphere of Japanese works as accurately as possible.
It is worth noting that the wooden sword and jade cutter all other new objects will endow their owner with unusual and useful effects in battle.
What if the Genshin Impact Texture Pack does not work?

Try to activate the experimental game mode.

Can I use it on servers?

Yes, you are free to use it on public servers.

How do I install this texture pack?

The file is in .mcpack extension, so just tap on the file to automatically install the modification.
download anchor
Download Genshin Impact Texture Pack for Minecraft PE