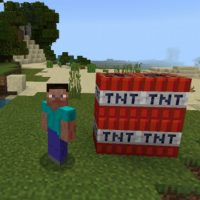 Dynamite Mod for Minecraft PE
Version MCPE: 1.16.0 - 1.20.15
Download
Download Dynamite Mod for Minecraft PE: blow up whatever you want and use new opportunities for resource extraction.
What is interesting in Dynamite Mod?
Explosive objects can be extremely useful in mining because in a couple of seconds users can destroy a site in several blocks or clear a passage. In real life, various installations are often used in mines that blow up certain sections of the path.
Now Minecraft PE will have the opportunity to try out various device options using Dynamite Mod. They can be helpful in the process of survival or exploration of space. They are starting from the oldest copies and end with hydrogen or nuclear bomb. Users will be able to try out any of them.
Dynamite
With this update for Dynamite Mod, it will be enough for players to throw explosives and a 5 by 5 block playground will be destroyed. Its depth will be 2 blocks, and all Minecraft PE creatures within the explosion radius will receive damage.
The closer to the epicenter, the stronger it will be. Users can get a new item by entering the command /give @s pa:dynamite. Or create one large explosive object from 9 parts.
More TNT
Even more opportunities for Minecraft PE players are provided by this update. The authors of Dynamite Mod provide a chance to see and evaluate with their own eyes the power of such bombs as hydrogen, cryogenic, cluster, or napalm.
By the way, the presented options include an anti-tank grenade, a Molotov cocktail, and even a unique singular bomb. The latter is capable of creating a hole in the time-space at the site of the explosion, and all living beings will be split into small particles.
With such an arsenal, the player will be able to become invincible and defeat even the strongest enemies. They simply would not have a chance to escape. Every user should try these incredible features in action.
How do I install this Dynamite mod?

The file is in .mcaddon extension, so just tap on the file to automatically install the modification.

Can this mod be run in a multiplayer game?

Yes, for this it is enough just to be the owner of the card and install this modification on it.

What if the mod does not work?

Try to activate the experimental game mode.
download anchor
Download Dynamite Mod for Minecraft PE