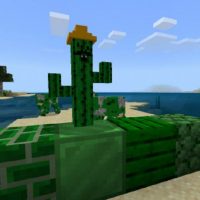 Cactus Armor and Sword Mod for Minecraft PE
Version MCPE: 1.13.0 - 1.20.31
Download
Download Cactus Armor and Sword Mod for Minecraft PE: a familiar plant that has received new features.
What is interesting in Cactus Armor and Sword  Mod?
There are many different plants in the Minecraft PE world, some can be used to create wood or eat their fruits, while others serve only as decorative elements. The authors of Cactus Armor and Sword Mod decided to add new features for the latter.
Now players will be able to use new blocks, and weapons and even get acquainted with very unusual animals. All of them will be bright green with small thorns. This update will appeal to all fans of this unpretentious plant and those who want to add something new to the game.
Items
With the Cactus Armor and Sword Mod, players will be able to perfectly diversify the standard set of blocks and items that will be made from one extremely prickly plant. All of them will differ in bright green color and have special properties.
Minecraft PE users will have a new type of stone, bricks, and boards. They will be useful in the construction or creation of new design interiors.
As well as a cake that restores 2 units of hunger. By the way, players will be able to craft a real sword that deals 6 units of damage or a battle ax. Its capabilities are 2 times stronger. Hit all opponents not only with force, but also with an unusual type of your weapons.
Mobs
In addition to items, unique animals will roam the expanses of Minecraft PE. The green cow and spider will amaze with their unusual appearance. A new creeper after death will leave behind 2 cacti.
But the most unusual mob in Cactus Armor and Sword Mod is Cactoni. It is the same plant, but with eyes and a funny hat. He will wander around and when he appears, players will hear the original sounds.
The authors have created a very interesting and unusual addition that will allow you to take a fresh look at the familiar cubic world.
How do I install this Cactus Armor and Sword mod?

The file is in .mcaddon extension, so just tap on the file to automatically install the modification.

Can this mod be run in a multiplayer game?

Yes, for this it is enough just to be the owner of the card and install this modification on it.

What if the mod does not work?

Try to activate the experimental game mode.
download anchor
Download Cactus Armor and Sword Mod for Minecraft PE