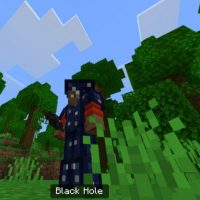 Black Hole Mod for Minecraft PE
Version MCPE: 1.19.0 - 1.19.83
Download
Download Black Hole Mod for Minecraft PE: use unique features to easily defeat any opponents, and also learn about the properties of new blocks and grow unusual plants.
What is interesting in Black Hole Mod?
The authors of Black Hole Mod have created a wide variety of blocks and items that will help players in the process of survival in Minecraft PE. The fact is that in the standard version of the game, there have been no new variants of weapons or armor for a long time, but the opponents in the game are becoming more dangerous.
Thanks to this update, the heroes have a great chance to make the gameplay even more diverse and interesting. Use new objects and surprise everyone around.
Weapon
To get new items, Minecraft PE players can use the command /function all_things or /function credit. They are also all presented in the Inventory of the Creative Mode.
The combat sword has incredible durability and adds 20 health points to the player who holds it. A bow made of new material teleports mobs to 12 blocks, and can also blow them up with a series of five explosions. The same properties are possessed by an air pistol, a slingshot, and a bomb.
Even more to strengthen the player in Black Hole Mod will help cool armor, which will make its owner almost invincible.
Blocks
In Black Hole Mod, players will first get acquainted with the material of the same name, which will be useful in the process of crafting and repairing objects. The second material in this update is called Dark Stone and you can use it to drop shards.
With the help of these objects, Minecraft PE players will create various blocks useful for survival. For example, traps that can teleport mobs and players who step on them and put a desiccation effect on them or poison them with poison.
Another interesting object is a seedling of a black hole, it can only be planted on a block with the same name. It has 6 stages of growth.
How do I install this Black Hole Mod?

The file is in .mcaddon extension, so just tap on the file to automatically install the modification.

Can this mod be run in a multiplayer game?

Yes, for this it is enough just to be the owner of the map and install this modification on it.

What if the mod does not work?

Try to activate the experimental game mode.
Download Black Hole Mod for Minecraft PE