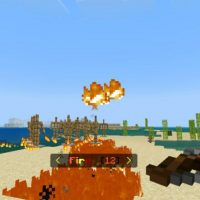 Arrows Mod for Minecraft PE
Version MCPE: 1.14.0 - 1.20.15
Download
Download Arrows Mod for Minecraft PE: use the bow and crossbow more effectively, thanks to the new features and improved functionality of their shells.
What is interesting in Arrows Mod?
The authors of Arrows Mod firmly believe that Minecraft PE has too boring and monotonous a choice of small arms. At the same time, they did not change the crossbows or bows themselves, limiting themselves to adding new functionality for arrows.
But this turned out to be quite enough to make the process of using them as interesting, diverse, and effective as possible. With this weapon, it will be possible not only to hit opponents but also to set them on fire or create huge pits.
Explosive Arrows
After installing this update for Arrows Mod, the behavior mechanics for the bow and crossbow will completely change. Having fired a shot, the Minecraft PE player will not just hit the target exactly but will blow it up.
A large area will ignite, and a rather impressive funnel will remain at the explosion site.
Dimension
This time, three new arrows will appear in the Inventory of the Creative Mode of Minecraft PE at once. Two of them are from the Underworld and one is from the Upper World.
These objects are designed in Arrows Mod to get new items from other dimensions. Just shoot somewhere and watch what happens next.
Super Arrows
To use the functionality of this update for Arrows Mod, players do not need to extract any special resources or craft items. Immediately after downloading, a small inscription will appear on the screen.
It corresponds to the effect that is currently in effect when using small arms in Minecraft PE. To change the effect, just sit down or move to another place. There are 12 modes in total in this update, here are some of them:
Boom – means that the arrow will explode after hitting the target;
Teleport – the player teleports to his goal;
Fire – when fired, a trail of fire appears, and when hit, the target will light up.
How do I install this Arrows mod?

The file is in .mcaddon extension, so just tap on the file to automatically install the modification.

Can this mod be run in a multiplayer game?

Yes, for this it is enough just to be the owner of the map and install this modification on it.

What if the mod does not work?

Try to activate the experimental game mode.
download anchor
Download Arrows Mod for Minecraft PE