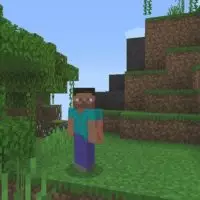 Sodium Mod for Minecraft PE
Version MCPE: 1.19.0 - 1.20.31
Download
Download Sodium Mod for Minecraft PE: get the opportunity to improve the performance of the game, improve FPS, and also make the lighting smoother and more enjoyable.
What is new in Sodium Mod?
There are many technical nuances in the gameplay that greatly affect the overall impression of the game. First of all, this is performance, as well as FPS – the number of frames per second.
This indicator will determine how smoothly and realistically the picture on the screen will change. By the way, lighting and transitions between different objects are also important.
The authors of the Sodium Mod offer players a simple and convenient way to optimize all these processes. This will make the world of Minecraft PE unusual and very interesting.
Features
At its core, the Sodium Mod is the most optimal opportunity to improve the performance of the game. It is enough to install this update and users will notice how much the surrounding space has changed.
Lighting will become much softer and more realistic, and transitions between biomes will be smooth and organic. Players may note that this update is an analog of another mod, Optifine, although it does not perform all its functions yet.
For all Minecraft PE players, this is a great opportunity to get rid of freezes in the game, as well as configure the chunk loading process. This opportunity is without a doubt absolutely unique.
Graphics
After installing the Sodium Mod, players will be able to solve most of the graphics problems. This is a real find for all Minecraft PE users who want to make the cubic world more interesting and realistic, and the game more productive.
Thanks to this update, the graphics will get new features and transform the entire surrounding space. Use the unique features right now and evaluate all the changes that have occurred.
How do I install this Sodium Mod?

The file is in .mcaddon extension, so just tap on the file to automatically install the modification.

Can this mod be run in a multiplayer game?

Yes, for this it is enough just to be the owner of the card and install this modification on it.

What if the mod doesn not work?

Try to activate the experimental game mode.
download anchor
Download Sodium Mod for Minecraft PE