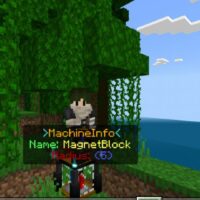 Journey Mod for Minecraft PE
Version MCPE: 1.16.0 - 1.20.15
Download
Download Journey Mod for Minecraft PE: Create new items that have various magical properties and get a new gaming experience.
What is interesting in Journey Mod?
Get new knowledge in the field of crafting items, weapons, and even magic items that will help Minecraft PE players in the process of survival. In the cubic world, the heroes are constantly faced with a difficult task.
It lies in the fact that they always need to fight for their lives and each time it becomes more difficult to do it. Of course, some devices can facilitate this process. The authors of Journey Mod offer to learn how to create something new and unusual from improvised materials.
Opportunities
After installing Journey Mod, the gameplay will play with completely new colors for Minecraft PE users. Now, with the help of ordinary slime, heroes can create a sword for themselves, which gives an increase in the jump twice at once.
Use the Ice Amulet to get infinite fire resistance. By the way, a special mirror removes the effect of the amulet. With the help of a magnetic block, you can teleport any element within a radius of 5 blocks from above.
Effectiveness
It is worth noting that such features will be useful to absolutely any Minecraft PE player and will be useful more than once during the game. The main feature of Journey Mod is that users get completely new knowledge that can be applied immediately.
And if you really do not want to bother with finding materials for crafting, then all the unique objects are presented in the Inventory. Of course, if the Creative mode and Experimental Settings were enabled when the update was activated.
Methods of application
Of course, every Minecraft PE player can independently decide when and to what extent to use certain magical items.
But at the same time, their necessity cannot be disputed, because Journey Mod is a great opportunity to learn something new and very useful.
How do I install this Journey mod?

The file is in .mcaddon extension, so just tap on the file to automatically install the modification.

Can this mod be run in a multiplayer game?

Yes, for this it is enough just to be the owner of the map and install this modification on it.

What if the mod does not work?

Try to activate the experimental game mode.
download anchor
Download Journey Mod for Minecraft PE