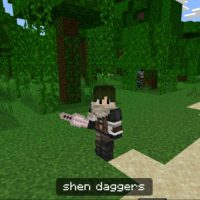 Kung Fu Panda Mod for Minecraft PE
Version MCPE: 1.19.0 - 1.20.15
Download
Download Kung Fu Panda Mod for Minecraft PE: feel like a villain from a famous cartoon and surprise your friends with incredible abilities.
What is interesting in Kung Fu Panda Mod?
A series of cartoons about a brave, albeit very lazy bear quickly became popular all over the world. The main character, despite his great love of food and an absolute lack of any combat abilities, was able to cope with all dangerous opponents.
In this, he was helped by a strict teacher, loyal friends, and an innate sense of duty. But in Kung Fu Panda Mod, the authors suggest that players reincarnate not in him, but on the contrary in his sworn enemies. Minecraft PE heroes will get incredible abilities and a completely new look.
Dangerous Heroes
In total, Kung Fu Panda Mod offers players three character variants, which players will transform with the help of simple manipulations. The first one proposed for turning into an anti-hero is Tai Lung.
This is a huge snow leopard with incredible strength and is an unsurpassed master of martial arts. A Minecraft PE player who receives such power will not be equal to any inhabitants of the cubic world.
The next character is Lord Shen. A beautiful white peacock, who hid insidious and cunning thoughts under the mask of intelligence. Knows how to destroy any opponents not only by force but also by mental abilities.
The final option for transformations is a yak named Kai. The supernatural powers of this creature turned out to be so powerful that it was extremely difficult for the main characters to cope with it.
Opportunities
Minecraft PE players can choose any scenario and create their own adventure story. Thanks to Kung Fu Panda Mod, you can become a villain who will disrupt the quiet and peaceful life of the cubic world.
Or vice versa in the guise of an anti-hero and using incredible abilities to fight robbers and protect civilians.
How do I install this Kung Fu Panda Mod?

The file is in .mcaddon extension, so just tap on the file to automatically install the modification.

Can this mod be run in a multiplayer game?

Yes, for this it is enough just to be the owner of the map and install this modification on it.

What if the mod does not work?

Try to activate the experimental game mode.
download anchor
Download Kung Fu Panda Mod for Minecraft PE