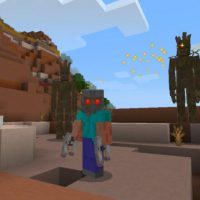 Guardians of Galaxy Mod for Minecraft PE
Version MCPE: 1.19.0 - 1.20.32
Download
Download Guardians of Galaxy Mod for Minecraft PE: get and grow your Groot, and explore the possibilities of new equipment and the Power Stone.
What is interesting in Guardians of the Galaxy Mod?
More recently, the third film about the adventures of these fearless heroes who travel to different planets and always get into the most incredible situations has already been released on the screens.
The authors of Guardians of the Galaxy Mod decided to transfer Groot to the cubic world, which Minecraft PE players can grow from special seeds. He will become their protector and help in the battle with the enemies. You can also transform into a Star-Lord with the help of a special costume and get incredible skills for this character.
Groot Cultivation
Seeds from which players can grow this unusual mob can be bought from another character named Rocket. Create a special pot and put the seeds in it. Treat it with a bone meal so that the Groot begins to grow.
In the process of growth in Guardians of the Galaxy Mod, it will go through three stages:
Baby – it cannot be tamed and it will not attack enemies;
Teenagers – buy a set-top box from the Rocket so that the pet begins to obey. He attacks enemies with wooden spikes. He can be given various commands, follow the player or stop;
Adult – follows the Minecraft PE hero, attacking opponents with blasters.
Star-Lord Costume
Minecraft PE players will be able to complement the image of the famous Star-Lord with a special costume. It consists of a helmet and a bib, as well as pants. With its help, you can get the opportunity to fly freely through the air.
Also in Guardians of the Galaxy Mod, the hero can move freely underwater. The whole set can be bought from the Rocket or found in the Inventory of the Creative Mode. Another unique item is the power stone, with its help you can defeat any opponent with one blow. Find it in the Edge dimension.
How do I install this Guardians of Galaxy Mod?

The file is in .mcaddon extension, so just tap on the file to automatically install the modification.

Can this mod be run in a multiplayer game?

Yes, for this it is enough just to be the owner of the map and install this modification on it.

What if the mod does not work?

Try to activate the experimental game mode.
download anchor
Download Guardians of Galaxy Mod for Minecraft PE