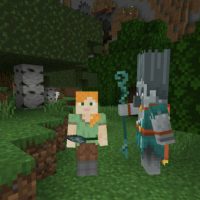 Wind Mod for Minecraft PE
Version MCPE: 1.16.0 - 1.20.32
Download
Download Wind Mod for Minecraft PE: try to defeat a special boss who has magical abilities or create a natural disaster.
What is new in the Wind Mod?
Control the elements right now, thanks to Wind Mod. Minecraft PE players will get acquainted with new creatures.
Walk around the unique biome and get an unusual item at your disposal.
Summoner
The real Lord of the Winds will appear in Minecraft PE thanks to this update. His appearance will be familiar to players from other inhabitants of the cubic world. The only difference is in more details and a headdress similar to a crown.
All this creates the image of a certain shaman or evil wizard who has magical abilities. The authors of Wind Mod have endowed this character with a good supply of health and two special abilities.
Firstly, he can summon ghosts, as well as create a real tornado. If the hero can still defeat such a strong opponent, he will get interesting loot from him.
The enchanted book will give the hero the ability to lift other mobs into the air.
Wind – Soaring Clouds
After installing this update for Wind Mod, a completely new biome will appear in cubic space. He is made to be fantastic. In its expanses, the Minecraft PE player is waiting for a meeting with very unusual creatures.
These are Cloud Bees that attack everyone who attacks them. You can also meet Soaring Skelline and Windholder. By the way, the authors have created several new blocks that will create a special atmosphere around them.
Tornado
This time, the Minecraft PE player himself will control one of the most dangerous natural elements. A new item that looks like a stick will appear in the Inventory of the Creative Mode. With its help, you can create a full-fledged tornado.
The authors of Wind Mod have made it very dangerous and destructive. And the hero who gets such an object at his disposal can have a lot of fun using it.
How do I install this Wind Mod?

The file is in .mcaddon extension, so just tap on the file to automatically install the modification.

Can this mod be run in a multiplayer game?

Yes, for this it is enough just to be the owner of the map and install this modification on it.

What if the mod does not work?

Try to activate the experimental game mode.
download anchor
Download Wind Mod for Minecraft PE