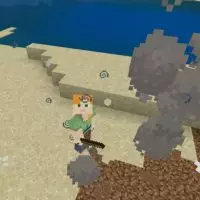 Storm Mod for Minecraft PE
Version MCPE: 1.14.0 - 1.19.83
Download
Download Storm Mod for Minecraft PE: try to survive after meeting the most incredible boss who can summon all the forces of nature to his aid.
What is interesting in the Storm Mod?
A terrible natural cataclysm will occur in the block world after installing Storm Mod. Players will have to face a terrible monster, which will become stronger and more dangerous by the minute.
By the way, Minecraft PE heroes will receive a unique item that can summon boundless forces of nature that will create terrifying cataclysms around them. You can make the survival process even more interesting and dangerous now, install one of these updates.
Wither Storm
The developers of this update for Storm Mod have created a really incredible and very dangerous opponent. He has a healthy reserve of 100 thousand units and goes through several stages.
At the last stage, he becomes invincible and summons an incredible storm that will turn Minecraft PE into an incredibly dangerous place. It looks impressive and only the bravest players will be able to survive such trials.
Winter Disaster
This time, the players themselves will adjust the intensity and speed of the appearance of various natural cataclysms in Minecraft PE. Among them is not only a storm but also a sandstorm or a terrifying darkness.
After installing the Storm Mod, the countdown will immediately begin in the game, and players will have only a few minutes to prepare for the start of the terrifying events.  And as soon as time runs out, terrifying events will begin to happen around, which will be impossible to stop.
Tornado
With this update for Storm Mod, players will be able to craft a unique item. When using it, you can cause a tornado. He will lift everything into the air and destroy it.
Natural cataclysms will be accompanied by a thunderstorm. Nothing like this has ever happened before in Minecraft PE.
How do I install this Storm Mod?

The file is in .mcaddon extension, so just tap on the file to automatically install the modification.

Can this mod be run in a multiplayer game?

Yes, for this it is enough just to be the owner of the map and install this modification on it.

What if the mod does not work?

Try to activate the experimental game mode.
Download Storm Mod for Minecraft PE