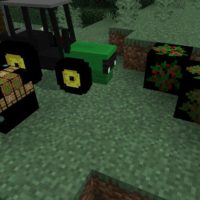 Farming Mod for Minecraft PE
Version MCPE: 1.0.0 - 1.20.31
Download
Download Farming Mod for Minecraft PE: use special tools and vehicles to learn how to grow various plants.
What is interesting in Farming Mod?
Minecraft PE players spend most of their time surrounded by nature and the authors of Farming Mod suggest using its capabilities to succeed in agriculture.
The heroes will get everything they need, namely equipment, tools, and seeds to start creating their farm. And they will also get acquainted with various animals, which will also be very useful in this process.
Farming
The authors of this supplement for Farming Mod have provided everything necessary to start the first steps in agriculture. The heroes will have a tractor, a plow, and a hoe at their disposal to cultivate the land.
In the Inventory of the Creative Mode, they will also find seeds and seedlings of various plants. The mechanics of behavior for various animals in Minecraft PE will also change.
Updated Farm
This time, in addition to the appearance of various agricultural plants in Minecraft PE, players will be able to get acquainted with new animals. Turkeys, guinea fowls, and ducks will appear among the birds, as well as roosters. By the way, the latter will crow loudly, and not only in the morning.
Another new mob in Farming Mod is goats. They are useful not only because they give wool. You can make real cheese from their milk.
Agricultural Industry
Incredible opportunities are provided to players by this addition for Farming Mod. Players will be able to grow tomatoes and peppers, as well as apples and oranges. With the help of a tractor with a plow, you can plow large areas in Minecraft PE.
The absolute novelty of this update is the creation of wine and cheese. By the way, to make the animals grow faster, feed them with a special feeder. All items can be found in the Creative Mode Inventory.
How do I install this Farming Mod?

The file is in .mcaddon extension, so just tap on the file to automatically install the modification.

Can this mod be run in a multiplayer game?

Yes, for this it is enough just to be the owner of the card and install this modification on it.

What if the mod doesn't work?

Try to activate the experimental game mode.
download anchor
Download Farming Mod for Minecraft PE