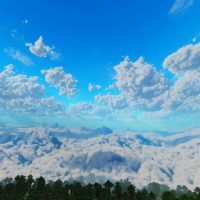 Clouds Mod for Minecraft PE
Version MCPE: 1.16.0 - 1.20.32
Download
Download Clouds Mod for Minecraft PE: enjoy the improved sky at any time of the day, and appreciate the updated textures and incredible realism of the picture.
What is new in the Clouds Mod?
The authors of Clouds Mod decided to transform the space surrounding the players. They created incredible updates that transformed the picture almost beyond recognition.
Now real cumulus clouds will float across the sky in Minecraft PE, and the sun and moon will shine much brighter and get a more rounded shape.
Better Sky
Minecraft PE players have never seen such a realistic sky in a cubic world. The fact is that it is standard, like everything that surrounds Steve, it consists of squares and, including the sun, has an angular shape.
After installing this update for Clouds Mod, the picture will change dramatically. The authors have blurred the boundaries between celestial objects and now they seem to flow into each other.
Realistic
The author of this update for Clouds Mod has bet on unsurpassed realism. Thanks to this, the cubic world has been transformed so much that it attracts the eye from the first minutes of being in the updated space.
At any time of the day, the sky in Minecraft PE will look incredibly beautiful. Especially memorable will be the period at sunset, when it will sparkle with all shades of red and orange. It is also worth noting that the clouds have received animation and now move smoothly across the sky.
Fluffy
It is hardly possible to imagine a more natural and lively appearance of the sky than in this addition Clouds Mod. A large number of drawn details create an incredibly beautiful and realistic picture.
This is incomparable with what users usually see above the player's head in Minecraft PE. A unique atmosphere will surround the heroes in the process of exploring the surrounding space.
How do I install this Clouds Mod?

The file is in .mcaddon extension, so just tap on the file to automatically install the modification.

Can this mod be run in a multiplayer game?

Yes, for this it is enough just to be the owner of the map and install this modification on it.

What if the mod does not work?

Try to activate the experimental game mode.
download anchor
Download Clouds Mod for Minecraft PE