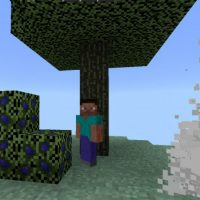 Aether Mod for Minecraft PE
Version MCPE: 1.4.0 - 1.20.41
Download
Download Aether Mod for Minecraft PE: fly above the clouds to visit a new dimension and meet new mobs, as well as evaluate the capabilities of unique weapons.
What is interesting in Aether Mod?
For those players who have few dimensions available in Minecraft PE, the authors of Aether Mod have prepared unique territories. To get there, heroes will have to climb above the clouds or go through a special Portal.
In new locations, players will meet previously unseen creatures, some of which can be very dangerous, and will be able to use new types of weapons and equipment. Embark on an exciting journey right now.
Paradise Trident
The developers offer players the to start exploring new features by using Paradise Trident. This weapon in Aether Mod has not only impressive dimensions. It is capable of scaring any opponent in Minecraft PE with one look.
Taking it in his hands, the hero will feel the incredible speed and additional strength.
Aether
This time, to visit a new dimension in Minecraft PE, players will have to climb literally above the clouds. It was there that the authors of Aether Mod created unique territories where users can meet two new types of ore from which they can create unique swords.
Also, a Heavenly Dragon and other very unusual creatures live in these places.
Heavenly Dimension
To get to this location, Minecraft PE players will need to create a special portal. This will require 8 Glowstones and a bucket of water to be placed in the middle. In this update, the heroes will meet new mobs, for example, flying pigs or horned cows and rabbits.
These creatures in Aether Mod will not harm players, but nothing good can be expected from a giant flying eye. To protect against him and other aggressive mobs, such as skeleton angels and zombies, players can use a unique type of armor.
How do I install this Aether Mod?

The file is in .mcaddon extension, so just tap on the file to automatically install the modification.

Can this mod be run in a multiplayer game?

Yes, for this it is enough just to be the owner of the card and install this modification on it.

What if the mod doesn't work?

Try to activate the experimental game mode.
Download Aether Mod for Minecraft PE