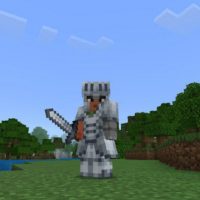 Steel Mod for Minecraft PE
Version MCPE: 1.16.0 - 1.20.15
Download
Download Steel Mod for Minecraft PE: use an iron to create new unique items, armor, and powerful weapons.
What is interesting in Steel Mod?
Many Minecraft PE users are wondering why developers do not add such important and useful material as Steel to the game. Having gained great popularity in the Middle Ages, when weapons and armor were created from it, it is indispensable for every knight.
Currently, the scope of application for it is even more extensive, and products made of this metal are in every home. The authors of Steel Mod offer players to get this valuable resource on their own or use ready-made items that will be available in the Inventory after installing the update.
More Items
It is worth starting to use this material by obtaining a steel ingot, and only then it can be melted down and receive nuggets, sticks, or blocks. It is noteworthy that the authors of Steel Mod have added two versions of steel apples – ordinary and enchanted.
After eating each of them, the Minecraft PE player will receive effects such as Regeneration, Resistance to Fire, Strength, and others. By the way, using the command /give @s sp1:name, heroes can get any of the items presented in the update.
Steel Plus
This time, only two new steel items will be available to the heroes – a nugget and an ingot. But at the same time, the choice of weapons and tools will please Minecraft PE players. A great option for defense and attack, the sword has a maximum damage level of 8 units.
The strength of all objects is the same and is equal to 1352 units. Use a more powerful pickaxe, axe, hoe, or shovel.
Players who have installed the Steel Mod can also try on a full set of armor made of this durable material. Her appearance will make the image of the hero look like a real medieval knight. A large number of different parts and a unique appearance distinguishes the kit from those already existing in the game.
How do I install this Steel Mod?

The file is in .mcaddon extension, so just tap on the file to automatically install the modification.

Can this mod be run in a multiplayer game?

Yes, for this it is enough just to be the owner of the map and install this modification on it.

What if the mod does not work?

Try to activate the experimental game mode.
download anchor
Download Steel Mod for Minecraft PE