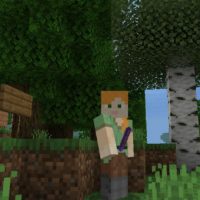 Signs Mod for Minecraft PE
Version MCPE: 1.18.0 - 1.19.63
Download
Download Signs Mod for Minecraft PE: add new functionality to ordinary items and use the menu to customize all the features.
What is interesting in Signs Mod?
In the cube world, players spend a lot of time creating new things and items. Using various blocks, you can transform the space and make it safe, comfortable, and modern.
The authors of Signs Mod have created a special menu in which you can create custom buttons on the plates. This will allow you to do something new and unique in Minecraft PE.
Button-signs
Any Minecraft PE user knows what these items are intended for. They are used, for example, to indicate the name of a place or building. The authors of Signs Mod propose to improve this subject and make a button out of it.
To do this, use the give @s mctvid:clickable_sign_editor command to create a special wand. By the way, it can also be found in the Inventory of the Creative Mode.
After that, click on the button and go to the menu.
Opportunities
Next, it will be possible to prescribe various commands that will be executed when the Minecraft PE player interacts with the tablet:
on-click performs actions after clicking on an item;
on-fail reports that something went wrong;
on-success indicates that everything was successful.
By the way, Signs Mod provides the ability to export data from one object to another, as well as its complete deletion. Thus, you can register the command and after the player clicks on the button, the necessary action will take place. For example, to give out some object or kill all creatures.
How do I install this Signs mod?

The file is in .mcaddon extension, so just tap on the file to automatically install the modification.

Can this mod be run in a multiplayer game?

Yes, for this it is enough just to be the owner of the card and install this modification on it.

What if the mod does not work?

Try to activate the experimental game mode.
Download Signs Mod for Minecraft PE