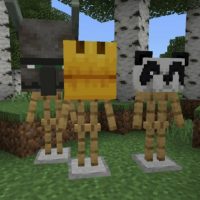 Mob Heads Mod for Minecraft PE
Version MCPE: 1.16.0 - 1.20.15
Download
Download Mob Heads Mod for Minecraft PE: гse these items to prank your friends or scare away uninvited guests.
What is interesting in Mob Heads Mod?
As you know, there are items in Minecraft PE that represent the heads of various creatures. Each user decides for himself how exactly he will use them.
Mob Heads Mod increases the number of options available in the game. So that each player finds the option he needs.
Different Heads
Every user who installs this add-on for Mob Heads Mod will be able to scare or possibly prank his friends. Now it will be possible to wear a variety of items instead of a helmet.
For example, it can be a pumpkin or a TNT block, or a stone. Also, with the help of objects new to Minecraft PE, you can make the head the same as that of a villager or place a small Shulker instead.
Heads and Blocks
Even more options for new blocks will be given to players who install this Mob Heads Mod add-on. All of them are divided into categories and represent the parts of various creatures: neutral, friendly, or aggressive.
To get new items in the Creative mode in Minecraft PE, you need to use a special command / function allhead.
All these items are full-fledged blocks on which the player can stand or turn in different directions. It is noteworthy that in Survival, all objects can be obtained as a drop from the inhabitants of the cubic world.
More
With each update, more and more new creatures appear in Minecraft PE. The most recent ones that appeared in the game are Warden and Sniffer. It is their heads that will now appear in the Inventory. They can be put on user and play friends or use a rack for armor to scare away uninvited guests.
In addition to these two creatures, Mob Heads Mod adds items in the form of panda body parts, Blaze, and other animals. Install this update to have fun and have fun with your friends.
How do I install this Mob Heads Mod?

The file is in .mcaddon extension, so just tap on the file to automatically install the modification.

Can this mod be run in a multiplayer game?

Yes, for this it is enough just to be the owner of the map and install this modification on it.

What if the mod does not work?

Try to activate the experimental game mode.
download anchor
Download Mob Heads Mod for Minecraft PE