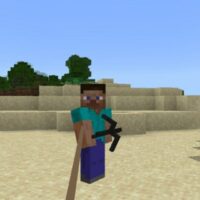 Hook Mod for Minecraft PE
Version MCPE: 1.17.0 - 1.20.32
Download
Download Hook Mod for Minecraft PE: quickly navigate through any caves and climb to the top of the largest mountain in the cubic world.
Hook Mod for Minecraft Bedrock Edition
Exploring the cubic world is not an easy walk through the blooming plains and beautiful forests. Sometimes there are obstacles in the form of rocks and canyons in the way of Minecraft PE players. It will be much easier to overcome any of them if you install the Hook Mod.
With a simple device, the heroes will fly over any obstacles. Also, this device will be very useful in various caves, where you also have to deal with surface irregularities. This is a great opportunity to try something new and unusual right now.
Grapple Hook
An easy-to-use device, Minecraft Bedrock Edition players can craft independently or find it in the Inventory of the Creative Mode. In the first case, you need three ropes and one amethyst fragment.
Hook Mod developers warn that these items have a depletable margin of safety and the more often they are used, the smaller it becomes. To make a move, it is enough just to throw it in the right place and the player will move to the selected area in a few seconds.
This option will help save a lot of time and not worry that the trip will have to be interrupted because a quarry or a rock appears on the way. And for fans of extreme pastime. Such a device will be a godsend at all. Because in real life it is used by all professionals.
Realistic
Another variant of such a device only differs from the previous one in its realistic design. Going with friends to explore the mountain biome in Minecraft PE without it will be a big mistake.
Now no rock will be an obstacle, and a lot of positive emotions are guaranteed to every user. Install Hook Mod and discover a completely new kind of adventure in a cubic world that will forever be remembered for its uniqueness.
How do I install this Hook Mod?

The file is in .mcaddon extension, so just tap on the file to automatically install the modification.

Can this mod be run in a multiplayer game?

Yes, for this it is enough just to be the owner of the map and install this modification on it.

What if the mod does not work?

Try to activate the experimental game mode.
download anchor
Download Hook Mod for Minecraft PE