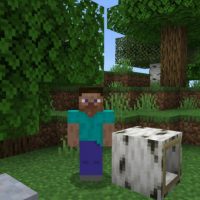 Archaeology Mod for Minecraft PE
Version MCPE: 1.19.0 - 1.20.15
Download
Download Archaeology Mod for Minecraft PE: get the opportunity to get more valuable resources, as well as more diverse items, to search for antiquities.
What is interesting in Archaeology Mod?
As you know, the novelty of the latest versions of Minecraft PE is the appearance of such an interesting and exciting activity as Archaeology. At the same time, the game developers are in no hurry to add a lot of new content related to this at once.
All items and blocks appear gradually. For the most impatient players, the authors have created an Archaeology Mod, thanks to which it is now more likely to receive valuable resources during excavations. The list of possible items that will be useful in this case has also been expanded.
Archaeology
This Archaeology Mod supplement increases the loss of valuable resources from blocks such as sand and gravel. Thus, Minecraft PE players will be able to get the desired result faster.
It is worth noting that these blocks are found, as a rule, in desert temples and wells, as well as in ocean ruins. By the way, there will be more rare items in the last location. Also, after installing this update in the ruins of the Bastion, players will be able to find the netherite template with a 50% probability. This is 5 times more than in the standard version of the game.
Arrange your exciting adventures in the cubic world, and make them interesting and diverse.
More Items
This time Minecraft PE players will get even more new items and interesting features. Clean the blocks with special Brushes to get ceramic vases, diamonds, and more.
By the way, some objects will be very valuable and rare. But the authors of Archaeology Mod decided not to stop only at expanding the possibilities of excavations. They also added a birch forest to the game, which contains 6 new types of flowers and mushrooms at once.
Also now it will be possible to catch fireflies in the cubic world. Put them in bottles to light up the space at night.
How do I install this Archaeology Mod?

The file is in .mcaddon extension, so just tap on the file to automatically install the modification.

Can this mod be run in a multiplayer game?

Yes, for this it is enough just to be the owner of the map and install this modification on it.

What if the mod does not work?

Try to activate the experimental game mode.
download anchor
Download Archaeology Mod for Minecraft PE