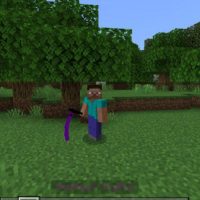 Amethyst Mod for Minecraft PE
Version MCPE: 1.16.0 - 1.20.15
Download
Download Amethyst Mod for Minecraft PE: use new items, weapons, and armor that were made of unusual material in the gameplay.
What is interesting in Amethyst Mod?
The Minecraft PE player who installs the Amethyst Mod will be able to defeat any opponent even more successfully and faster. The fact is that thanks to these additions, there will be much more options for using this valuable resource.
Now you can create equipment and weapons, tools, items, and much more from amethyst. Add unique samples to your collection, which will undoubtedly become its decoration.
 Armor and Items
The first thing Minecraft PE users who install this add-on should remember is to enable all Experimental Settings. This will allow you to fully evaluate the capabilities of the Amethyst Mod.
In the Inventory of the Creative Mode, you can now find armor and swords, as well as axes and shovels, which will have a very unusual texture and color.
More Amethyst
As every Minecraft PE player knows, amethyst has a very beautiful purple color that even shimmers a little. But at the same time, this resource has a very limited scope of application.
The authors of Amethyst Mod decided to fix this situation and added the ability to create beautiful and durable armor, weapons, and much more from it. Now the enemies will not have a single chance to win on the battlefield.
Amethyst Mod
This update adds five new items to Minecraft PE at once. It is worth noting that previously such tool options were not available to players.
Thus, after installing the Amethyst Mod, players will receive a mace, a scythe, and a blade. All of them have excellent characteristics in strength and damage to the enemy. In addition, wearing an amethyst pendant, the player receives night vision, regeneration, and slowing down the fall.
And by eating an apple made of the same material, you can get regeneration and vision in the dark for 3 seconds.
How do I install this Amethyst mod?

The file is in .mcaddon extension, so just tap on the file to automatically install the modification.

Can this mod be run in a multiplayer game?

Yes, for this it is enough just to be the owner of the map and install this modification on it.

What if the mod does not work?

Try to activate the experimental game mode.
download anchor
Download Amethyst Mod for Minecraft PE