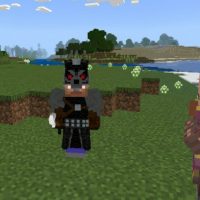 Werewolf Mod for Minecraft PE
Version MCPE: 1.14.0 - 1.20.31
Download
Download Werewolf Mod for Minecraft PE: choose your role and fight against terrible night monsters or become one of them.
What is new in Werewolf Mod?
All the stories about these creatures have a similar plot: during the full moon, wolves turn into bloodthirsty monsters capable of destroying or infecting anyone who gets in their way.
Werewolf Mod offers players to transfer such creatures to the world of Minecraft PE and become one of them to gain incredible abilities.
Vampire Craft
The authors of this update will fill the world with mysticism and mystery. Players in Werewolf Mod will be able to choose which side to fight on. Become a night monster and move with incredible speed.
Or vice versa, try on the role of a hunter and clear Minecraft PE of evil spirits. The heroes will have a large number of auxiliary items at their disposal: aspen stakes, crossbows, and spears.
By the way, in the dark, the usual moon will be replaced by a blood-red one. It will be much larger, and the sky will turn pink. This will undoubtedly give the surrounding space an atmosphere of fear and danger.
Werewolf Evolution
The first people the players who have entered the new world will meet are infected residents. They can appear in the forest or when monsters attack the village. Outwardly, they look like the standard inhabitants of Minecraft PE, but their clothes will be torn in places, and traces of blood can be seen on them.
In addition, the hero will have at his disposal several new plants and items that can be used to treat those who have been attacked by evil spirits. When the moon is full, players will certainly meet a werewolf.
These creatures have great speed, health, and regeneration. The danger of meeting them is that they can infect the hero and he will also begin to turn into one of them.
This process in Werewolf Mod takes place in several stages and is accompanied by the appearance of such effects as strength, acceleration, high hunger, and resistance in the hero.
How do I install this Werewolf Mod?

The file is in .mcaddon extension, so just tap on the file to automatically install the modification.

Can this mod be run in a multiplayer game?

Yes, for this it is enough just to be the owner of the card and install this modification on it.

What if the mod does not work?

Try to activate the experimental game mode.
download anchor
Download Werewolf Mod for Minecraft PE