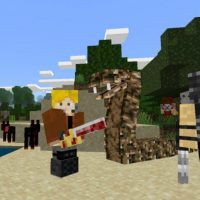 Resident Evil Mod for Minecraft PE
Version MCPE: 1.17.0 - 1.20.15
Download
Download Resident Evil Mod for Minecraft PE: fight terrible creatures, zombies, and other creepy characters using new weapons and equipment.
What is interesting in Resident Evil Mod?
The authors of Resident Evil Mod offer players to participate in a real war against zombies and other dangerous creatures. In Minecraft PE, there will be a lot of all kinds of monsters, each of which will be a danger to the hero.
Various items new to the cubic world will help to counter this threat. For example, syringes with medicine and antidote, all kinds of weapons, and cool modern equipment. The creators of this update have made it interesting and very diverse.
Remastered
For all fans of the universe of the same name, the authors have created this add-on for Resident Evil Mod. The players who installed it will not recognize the world of Minecraft PE, because there will be a lot of new and unusual things in it.
Firstly, it is the military and the police who are trying their best to stop the creepy zombies. These creatures, in turn, though rather slow, can infect a player, even if he has full equipment with armor from Netherite.
Be sure to try out new types of transport, among which there is an armored personnel carrier, a truck, and even a tank.
Resident Evil
But not so much the game of the same name, as the film brought popularity to this creepy story. In the story, the main character is trying to get out of the laboratory, in which all the inhabitants have turned into zombies.
After installing Resident Evil Mod, the same thing will happen in Minecraft PE. But do not despair, because, in the Inventory of the Creative Mode, you can find not only weapons such as machetes or chainsaws but also new types of armor.
All the monsters that this update adds to the cubic world look creepy and intimidating. After killing each of them, the player will receive an interesting loot. It will help in the process of survival, which will become several times more difficult than before.
How do I install this Resident Evil Mod?

The file is in .mcaddon extension, so just tap on the file to automatically install the modification.

Can this mod be run in a multiplayer game?

Yes, for this it is enough just to be the owner of the map and install this modification on it.

What if the mod does not work?

Try to activate the experimental game mode.
download anchor
Download Resident Evil Mod for Minecraft PE