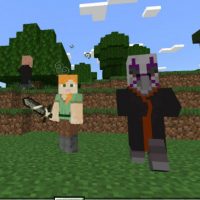 Necromancy Mod for Minecraft PE
Version MCPE: 1.14.0 - 1.20.32
Download
Download Necromancy Mod for Minecraft PE: try to defeat an incredible creature that has magical abilities and knows how to summon helpers.
What is unique in Necromancy Mod?
The authors of Necromancy Mod offer players the to add a mystical inhabitant to Minecraft PE. Now, in addition to witches, necromancers will inhabit the expanses of the cubic world.
These creatures possess ancient fighting techniques and can teleport and even summon various undead to their aid.
A unique sword with a large margin of safety can help players in this difficult battle. But players should remember that when using it, the effect of hunger is imposed on them.
Dangerous Opponent
Only a very brave Minecraft PE player can decide to fight with such a dangerous opponent.  The fact is that necromancers have four types of attacks at once, and their health is 300 units.
Those who decided to meet him should wait for the night and go to the forest biome. Be careful, because this Necromancy Mod character can appear in the most unexpected places, thanks to the teleportation ability.
Also, he will certainly take the chance and call other dangerous creatures to his aid.
Necromancy
Powerful forces and dangerous creatures – that is what everyone who decides to install this update for Necromancy Mod will have to face. Use the Undead Sword, which has a strength of 200 units, to defeat all evil spirits. You can get it from the Creative Mode Inventory or using the command /give @s necro: undead sword.
Another unusual item will appear at the disposal of Minecraft PE players. It is called a zombie spawner and while it is in the hands of the hero, these creatures will endlessly appear on the field.
But necromancers are the most dangerous. They exist on two levels and their main weapon is the ability to summon mummies, zombies, and other monsters.
How do I install this Necromancy Mod?

The file is in .mcaddon extension, so just tap on the file to automatically install the modification.

Can this mod be run in a multiplayer game?

Yes, for this it is enough just to be the owner of the card and install this modification on it.

What if the mod does not work?

Try to activate the experimental game mode.
download anchor
Download Necromancy Mod for Minecraft PE