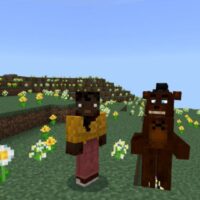 Freddy Mod for Minecraft PE
Version MCPE: 1.20.0 - 1.20.41
Download
Download Freddy Mod for Minecraft PE: Arrange themed adventures based on the famous horror game and try to survive after meeting creepy creatures.
What is interesting in Freddy Mod?
A huge number of various additions appeared based on the story of the pizzeria, where kind and cute creatures have become dangerous monsters. They began to attack unsuspecting children and their appearance only vaguely recalls the old days.
The author of Freddy Mod offers his vision of this story, terrible creatures will appear in Minecraft PE. From the very sight of which the blood runs cold in the veins. Now every player can try their hand at fighting them.
Animatronics
Animatronics are mechanical dolls that entertain children with cheerful songs and dances. Freddy Mod features all the main characters in the famous story. This is the main character Freddy. Also, a chicken named Chica, Bonnie the hare, Foxy the fox, and Springtrap the Easter bunny.
That is just the appearance in Minecraft PE of these creatures now does not match the cheerful atmosphere of a holiday for children at all. Dirty, streaked, and with terrible bloodstains, these creatures by their very appearance create an atmosphere of fear and despair.
Reincarnation
It is worth noting that Minecraft PE players can independently spawn any of these creatures using summoning eggs in the Creative Mode Inventory. By the way, the authors of Freddy Mod offer them to transform into one of the terrible creatures.
To do this, Freddy Mod has an item called springtrap. Just pick it up and the appearance of the player will immediately change, he will look like one of the creepy monsters. Surprise or scare unsuspecting friends.
Opportunities
There are a lot of options for using Freddy Mod in Minecraft PE. Players can invite friends to arrange themed adventures together or arrange a large-scale battle between heroes and bloodthirsty monsters.
How do I install this Freddy mod?

The file is in .mcaddon extension, so just tap on the file to automatically install the modification.

Can this mod be run in a multiplayer game?

Yes, for this it is enough just to be the owner of the map and install this modification on it.

What if the mod does not work?

Try to activate the experimental game mode.
Download Freddy Mod for Minecraft PE