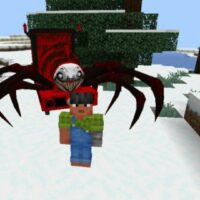 Choo Choo Charles Mod for Minecraft PE
Version MCPE: 1.19.30 - 1.20.15
Download
Download Choo Choo Charles Mod for Minecraft PE: learn about the features of the creepy inhabitant of the blocky world who got into it from the horror game.
Choo Choo Charles Mod for Minecraft Bedrock Edition
Based on the popular horror game, the developers have created the Choo Choo Charles Mod. Now another creepy and dangerous creature will appear in Minecraft PE, which will attack almost all the inhabitants of the cubic world.
It is worth noting that this creature has a very unpleasant appearance, and also makes such nasty sounds during the attack that the atmosphere around becomes unbearable.
Appearance
Choo Choo Charles Mod was created in the image of a horror game that was published by Two Star Games. Accordingly, the appearance of the main character in Minecraft Bedrock Edition was completely copied by the developers from the original.
From the front, the creature looks like a red spider, with huge paws and a clown face. But if you approach it from the side, it looks like a locomotive. An unpleasant appearance makes the image intimidating and repulsive.
Mechanics of behavior
Choo Choo Charles attacks all living creatures in the cubic world, including zombies and creepers, and has incredible strength. The villagers will also be in danger because he will also destroy them without hesitation.
An uncharacteristic feature of this creature is that after its attack, blood remains at the site of the attack. As you know, this is not provided as standard in Minecraft PE.
Main Features
Minecraft PE players can use this creepy creature for entertainment, destroying enemies. You can also use it to scare your friends in the cubic world or arrange some themed survival adventures.
In any case, by installing Choo Choo Charles Mod, users will have an unusual time, and horror-themed fans will be delighted with this creepy character.
How do I install this Choo Choo Charles mod?

The file is in .mcaddon extension, so just tap on the file to automatically install the modification.

Can this mod be run in a multiplayer game?

Yes, for this it is enough just to be the owner of the map and install this modification on it.

What if the mod does not work?

Try to activate the experimental game mode.
download anchor
Download Choo Choo Charles Mod for Minecraft PE