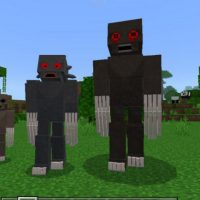 Cave Mobs Mod for Minecraft PE
Version MCPE: 1.13.0 - 1.20.41
Download
Download Cave Mobs Mod for Minecraft PE: try to survive after meeting these creepy creatures that spend most of their time underground.
What is interesting in Cave Mobs Mod?
The authors of Cave Mobs Mod decided that there are not enough dangerous creatures in Minecraft PE, especially in its underground part. Therefore, now survival will become several times more dangerous.
It will be very difficult to get valuable resources in the caves, so when going on such a journey, it is better to think about your equipment in advance and prepare powerful weapons.
Cave Update
The main creatures that live in the caves of the cubic world are skeletons and spiders. It is the abilities of the latter that the authors of this Cave Mobs Mod update decided to change. Traveling underground, Minecraft PE players will meet a giant spider on their way, whose health is 275 units.
At the same time, he is also able to create small individuals and also attack heroes with a sticky web. It is noteworthy that after installation, more diverse underground locations will appear in the game, for example, in biomes such as deserts or tundra.
Underground Monsters
This time Minecraft PE players will meet quite unusual creatures for the cubic world in the caves. They will be creepy trolls and orcs, who by their very appearance terrify everyone who sees them.
To meet them in Cave Mobs Mod, fearless heroes will need to go to Lush Caves.
Cave Mobs
Immediately three new creatures will appear in the game after installing this Cave Mobs Mod update. They will differ in their skills and sizes, but they have one thing in common – a creepy appearance and incredible anger toward every player they meet on their way.
Never before has exploring the underground world of Minecraft PE been so difficult and dangerous, therefore, only the bravest heroes will be able to cope with these terrible creatures.
How do I install this Cave Mobs mod?

The file is in .mcaddon extension, so just tap on the file to automatically install the modification.

Can this mod be run in a multiplayer game?

Yes, for this it is enough just to be the owner of the map and install this modification on it.

What if the mod does not work?

Try to activate the experimental game mode.
Download Cave Mobs Mod for Minecraft PE