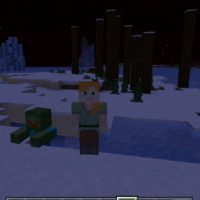 Apocalypse Generation Mod for Minecraft PE
Version MCPE: 1.19.0 - 1.20.32
Download
Download Apocalypse Generation Mod for Minecraft PE: plunge into a world full of creepy creatures, try to survive, and cope with your fears.
What is interesting in Apocalypse Generation Mod?
A truly creepy atmosphere will reign in Minecraft PE after installing the Apocalypse Generation Mod. The sky now, even in the daytime, will inspire fear, because it will change its color from blue to bright red.
This will create a horror atmosphere in the cubic world and make players afraid to take every step. The author has replaced all the colors with darker shades, some trees have lost their foliage, and the blood rain will also be an absolute innovation for users.
Mobs
The author of the Apocalypse Generation Mod did not add any new creepy creatures to Minecraft PE. At the same time, he made the existing mobs even scarier and more dangerous. Zombies, creepers, and skeletons will now move through the territory incredibly fast.
This means that it will be even harder for players to avoid them. Also, their appearance changed, they got red eyes. This will undoubtedly give their appearance a more intimidating and frightening appearance. Try to stay calm and not give in to fear, the only way you can survive in this terrible place.
Main Features
After installing the Apocalypse Generation Mod, not only the inhabitants of the cubic world will change, which will become even scarier and more dangerous. The very nature surrounding Minecraft PE players will give the impression that they are in a horror movie.
The blood-red sky, the same color as the moon and the rain will not leave any user indifferent. Thanks to these changes, they will fully immerse themselves in the original atmosphere and will be able to go through the most dangerous and terrible trials.
Such adventures will suit fans to test their strength in non-standard situations, as well as help to gain new experiences and diversify the gameplay.
How do I install this Apocalypse Generation Mod?

The file is in .mcaddon extension, so just tap on the file to automatically install the modification.

Can this mod be run in a multiplayer game?

Yes, for this it is enough just to be the owner of the map and install this modification on it.

What if the mod does not work?

Try to activate the experimental game mode.
download anchor
Download Apocalypse Generation Mod for Minecraft PE