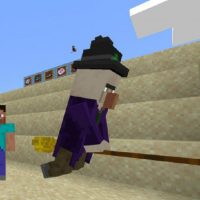 Witchery Mod for Minecraft PE
Version MCPE: 1.16.0 - 1.19.83
Download
Download Witchery Mod for Minecraft PE: a magical world is waiting for its heroes, learn to fly on a broom or cook a magic potion in a cauldron.
What is new in Witchery Mod?
Magic always attracts people with its mystery and incredible possibilities. Now Minecraft PE users can also become a part of this world.
Use magic books in Witchery Mod to learn how to fly on a broom or move quickly in space. Also beware of the witch hunter, who is mute and looking for his victims at night. The scarecrow is now able to intimidate not only animals but also Steve.
Therefore, it is better to deal with it faster, especially since the player will receive balls of dark energy as loot. Incredibly exciting adventures are provided to everyone who installs these updates.
Wizardry
With this update for Witchery Mod, players will have the opportunity to become real wizards. Use a broom to fly through the air, and also learn how to use magic books.
They will allow Minecraft PE players to control the elements and fight enemies. For example, the book of the ice explosion imposes a suffocating spell on all creatures around, and with the help of a mirror word, you can quickly move around the world.
By the way, now witches have mastered the art of flight and heroes should be wary of air attacks from these mobs.
Witch Craft
This add-on will also fill the Minecraft PE world with magic and magic. Players will be able to brew potions in a cauldron and take souls from mobs. Thanks to Witchery Mod, many new creatures will appear in the cubic world. For example, an alchemist, from whom you can buy a unique watch that controls time.
A new kind of witch has become even scarier and more dangerous and can summon ghosts. To stop them, hunters will spawn all over space. This is a very interesting and unusual update that will not only diversify the gameplay but also allow players to become real magicians.
How do I install this Witchery Mod?

The file is in .mcaddon extension, so just tap on the file to automatically install the modification.

Can this mod be run in a multiplayer game?

Yes, for this it is enough just to be the owner of the card and install this modification on it.

What if the mod does not work?

Try to activate the experimental game mode.
Download Witchery Mod for Minecraft PE