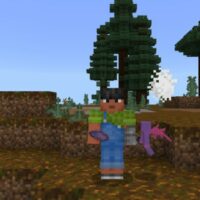 Vex Mod for Minecraft PE
Version MCPE: 1.16.0 - 1.20.41
Download
Download Vex Mod for Minecraft PE: add variety to the appearance of these creatures, learn how to tame them, as well as ride them and trade with them.
Vex Mod for Minecraft Bedrock Edition
Many users are aware of the standard features of these mobs in Minecraft PE. They can walk through walls and are called Evoker during a raid.
After installing the Vex Mod, their abilities will be much more extensive – now they can be tamed and you can trade with them.
Update
The authors of this update for Vex Mod have changed the appearance of this mob. Now it looks a bit like Allay. The new version looks more neat and cute. His head is slightly larger than his torso. The wings have also increased and the image as a whole turned out to be a little cartoon.
The changes will affect only the appearance of the inhabitant of Minecraft Bedrock Edition, all other functions will remain unchanged.
Tameable
To replenish the list of tamed creatures in Minecraft PE, players need to install this update for Vex Mod. Now the creatures Evoker summons during raids can become pets of heroes.
To do this, you need to find one of them or use the spawn egg or the command /summon minecraft: vex and start feeding the mob with golden apples. After taming, he will retain his ability to pass through blocks, accompany the owner everywhere, and attack his enemies. He can even be put on a leash.
More
The author of this update has added several new types of Vex to Minecraft PE, thereby diversifying their abilities. Now it will be possible to ride on these creatures, individuals with red wings and pink color will be suitable for this.
Also, the Vex Mod provides the opportunity to trade with these mobs. Creatures have this function in dark red and green colors. It is noteworthy that all creatures are available in the Inventory of the Creative Mode and can be summoned using the spawn egg.
How do I install this Vex mod?

The file is in .mcaddon extension, so just tap on the file to automatically install the modification.

Can this mod be run in a multiplayer game?

Yes, for this it is enough just to be the owner of the map and install this modification on it.

What if the mod does not work?

Try to activate the experimental game mode.
Download Vex Mod for Minecraft PE