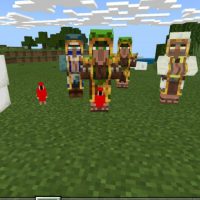 Trader Mod for Minecraft PE
Version MCPE: 1.13.0 - 1.20.15
Download
Download Trader Mod for Minecraft PE: interact with these useful creatures, and exchange various objects and objects with them.
What is interesting in Trader Mod?
Cube World users were looking forward to the appearance of such a character as the Wandering Trader with great impatience. In general, it is quite useful in gameplay, but at the same time, its capabilities have somewhat disappointed Minecraft PE players.
The fact is that he often offers completely useless things and demands a very high price for them. The authors of Trader Mod have significantly diversified the appearance options and options of these creatures, thereby perfectly diversifying the gameplay.
 More Traders
Now, in each of the biomes, Minecraft PE players will meet a special kind of merchant. Their appearance and the animals that accompany them will depend on the surrounding climate. For example, the Arctic version will be dressed in warm blue and light blue clothes and will appear in the company of polar bears.
In total, this update for Trader Mod features six types of wanderers, some of which will appear accompanied by parrots, bees, or foxes. Naturally, each of them will have a special choice of goods.
More Options
This time, the creators of Trader Mod did not stop only at adding a variety of traveling sellers directly but also offer players to get acquainted with other NPCs. Each of them in Minecraft PE will have a unique role and interaction with them will be very exciting.
It is worth noting that the new product will appear at the merchants – this is a bag of money. You can get it in exchange for jewelry and then buy new armor with it.
Wandering Trader Plus
Another addition to this theme also diversifies the appearance of traveling merchants. Now you can meet them in Minecraft PE in the mountains and then they will be with mountain goats, and in the desert – with camels.
In Trader Mod, they can sell 4 items or buy 3.
How do I install this Trader mod?

The file is in .mcaddon extension, so just tap on the file to automatically install the modification.

Can this mod be run in a multiplayer game?

Yes, for this it is enough just to be the owner of the map and install this modification on it.

What if the mod does not work?

Try to activate the experimental game mode.
download anchor
Download Trader Mod for Minecraft PE