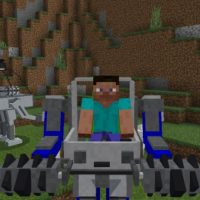 Robots Mod for Minecraft PE
Version MCPE: 1.16.0 - 1.20.31
Download
Download Robots Mod for Minecraft PE: use mechanized assistants, for whom almost nothing is impossible.
What is new in Robots Mod?
Every person who has been engaged in a boring occupation has dreamed, at least once that it would be possible to mechanize this process. The authors of Robots Mod offer players to create assistants who will harvest, extract minerals or protect the territory.
The world of Minecraft PE is getting more interesting and more diverse every time.
Assistants
This update for Robots Mod will add several variants of mechanized assistants to the game. This will make it much faster to perform boring and sometimes difficult processes in Minecraft PE:
farmer – by installing a special chip for farming, players can create a bot that will plant seeds independently and make sure that the growing process does not stop;
the collector – as the name implies, this mechanism will be able to collect what has already grown and put it in a certain place;
vacuum cleaner – draws in everything that comes in its way;
watchman – will guard the territory,

can be armed with a bow or sword;

miner – used for mining.
Players can get acquainted with all the features by opening the menu in the upper right corner of the Inventory.
Mechs and Jetpacks
The authors of this update for Robots Mod have allowed players to move quickly by controlling special mechanisms. This will not only simplify routine activities but also bring a lot of fun.
A mechanical installation with a machine gun will allow users you to quickly destroy enemies. Also overcome long distances both on land and by water. The driller will allow the player to see in the dark and breathe underwater. Suitable for mining resources or destroying enemy buildings.
Minecraft PE players will also have a jetpack that allows them to fly. Also a hand-held machine gun.
How do I install this Robots mod?

The file is in .mcaddon extension, so just tap on the file to automatically install the modification.

Can this mod be run in a multiplayer game?

Yes, for this it is enough just to be the owner of the card and install this modification on it.

What if the mod does not work?

Try to activate the experimental game mode.
download anchor
Download Robots Mod for Minecraft PE