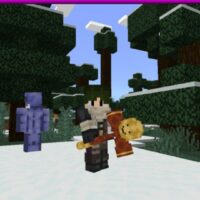 One Punch Man Mod for Minecraft PE
Version MCPE: 1.17.0 - 1.20.40
Download
Download One Punch Man Mod for Minecraft PE: Explore an amazing world full of dangers and new opportunities, get unique effects, and defeat enemies.
What is interesting in One Punch Man Mod?
One Punch Man Mod is based on a Japanese webcomic. Its main character is a young man named Saitama. He has an amazing ability to defeat any opponent with one blow.
It is this effect that the authors of this update offer to evaluate all Minecraft PE players. By the way, there are many more interesting things in the supplement. New weapons, equipment, and evil monsters. Explore all the incredible possibilities right now. Use incredible weapons and magical effects.
Items
Immediately after installing One Punch Man Mod, the player gets three new items. One of them is used to create a crowd of monsters. By the way, the Inventory will feature several quite interesting items. Including unique costumes created based on the original story. As well as cool weapons.
Now the world of Minecraft PE will look like a platform for cool competitions in which everyone can show their abilities.
Weapon
Be sure to invite your friends to evaluate all the features of One Punch Man Mod together, as well as arrange some themed adventures.
This is a unique experience for every Minecraft PE user. Which will allow you to learn a lot about the amazing world of manga.
Actors
One Punch Man Mod features many characters that may be familiar to Minecraft PE users from the original story. Among them are not only Saitama himself. But also Silver Fang, Garou, Metal Bat, and many others.
Such a variety of participants allows you to create a full-fledged atmosphere in the cubic world. Which is known from the original story. Be careful, because some of them are armed with powerful weapons. While others can recover very quickly after any injury.
How do I install this One Punch Man mod?

The file is in .mcaddon extension, so just tap on the file to automatically install the modification.

Can this mod be run in a multiplayer game?

Yes, for this it is enough just to be the owner of the map and install this modification on it.

What if the mod does not work?

Try to activate the experimental game mode.
Download One Punch Man Mod for Minecraft PE