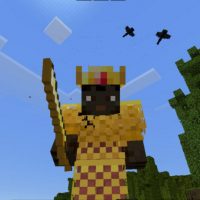 Adventures Plus Mod for Minecraft PE
Version MCPE: 1.19.0 - 1.20.15
Download
Download Adventures Plus Mod for Minecraft PE: Meet unusual mobs that have never appeared before in the vast cubic world.
What is interesting in Adventures Plus Mod?
The authors of Adventures Plus Mod have come up with a great idea of how to diversify the gameplay in Minecraft PE. They have added many different mobs to the cube world. It is noteworthy that many of them could have appeared in the official version, but lost in the user vote.
Others remained at the concept level at all but were never developed. By the way, this update adds a lot of unusual items, as well as food and stuff. Players will get a lot of positive emotions and a unique gaming experience.
Mobs
Once upon a time, the monster of the deep caves did not win the vote and a Phantom appeared in the game instead. Now, in Adventures Plus Mod, this deadly mob will inhabit deep underwater caves.  But in the lush caves, there will be a Firefly – a harmless creature that is afraid of monsters.
You can also find cute crabs in the reservoirs. The drop from these creatures is a claw with meat that can be cooked. The beach view can have a nautilus shell. Going to the taiga in Minecraft PE, be careful because there now lives a very strong opponent – a brown bear. He will guard the taiga.
And villagers should be wary of the red phantom, it appears at dark times and can destroy a flock of sheep.
Structures and objects
While traveling in Minecraft PE, players will also encounter unusual structures, for example, a Mysterious lighthouse can be found on the beaches. In the swamps, players can visit the mangrove pyramid, and cemeteries will be generated around the world.
They will contain the remains of the inhabitants. Also, players who have installed Adventures Plus Mod can visit the jungle well or spider cave. Use the /structure load chest_addons command to get all the items that are available in this update.
How do I install this Adventures Plus Mod?

The file is in .mcaddon extension, so just tap on the file to automatically install the modification.

Can this mod be run in a multiplayer game?

Yes, for this it is enough just to be the owner of the map and install this modification on it.

What if the mod does not work?

Try to activate the experimental game mode.
download anchor
Download Adventures Plus Mod for Minecraft PE