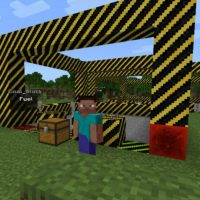 Quarry Mod for Minecraft PE
Version MCPE: 1.17.0 - 1.20.32
Download
Download Quarry Mod for Minecraft PE: get useful resources quickly using new unique features.
What is interesting in Quarry Mod?
Minecraft PE players spend a lot of time trying to get blocks for buildings or various useful resources. Now, with the help of Quarry Mod, this process will happen as quickly and conveniently as possible.
The update adds a special installation to the game that can make a deep hole in a matter of seconds. No, even the strongest breed can stop the action of this system.
As a result, the player will receive a completely finished quarry, in which a ladder will even be installed for a convenient descent of the player down.
Mechanics
Quarry Mod offers the most convenient process of mining useful resources for all players. First users will need to install a special unit on the ground. To put the installation into operation, it is necessary to install a coal block on a certain site.
If the player removes it, the process will stop. After returning this item to its place, you can resume work. If the player wants to completely complete the creation of the pit, users need to destroy the block of red stone located there.
Developers provide Minecraft PE players with a unique opportunity to get the necessary items quickly and conveniently.
Opportunities
In order to get the desired blocks to create a pit, players can use commands in Creative Mode. Users just need to type /function and choose from the suggested options. Players can also craft the necessary items themself.
Quarry Mod provides the ability to choose from 4 different options that will vary in size. In any case, the Minecraft PE player gets a deep hole in the ground, into which they can go down the stairs.
Further actions are at the discretion of the hero, he can use resources in construction or for any other purposes.
How do I install this Quarry Mod?

The file is in .mcaddon extension, so just tap on the file to automatically install the modification.

Can this mod be run in a multiplayer game?

Yes, for this it is enough just to be the owner of the card and install this modification on it.

What if the mod does not work?

Try to activate the experimental game mode.
Download Quarry Mod for Minecraft PE