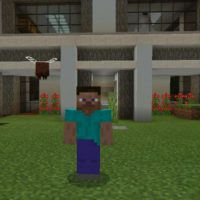 Instant House Mod for Minecraft PE
Version MCPE: 1.14.0 - 1.20.31
Download
Download Instant House Mod for Minecraft PE: Create your own unique dream city, village, or settlement in a matter of minutes.           
What is interesting in Instant House Mod?
Many players spend a lot of time building a Minecraft PE home, arranging it, and creating a cozy atmosphere. At the same time, users can get a ready-made version and not waste precious minutes on this boring activity.
Or, for example, the hero went on a journey, but night came and he did not have time to return home. He needs somewhere to hide and hide his valuable resources. Instant House Mod will come to the rescue.
Houses
The Instant House Mod provides incredible opportunities for all Minecraft PE users. Now players do not need to waste time and resources figuring out how to create and equip a home for the hero.
Thanks to this update, it will be enough to enter just one command and a ready-made house or even a mansion will appear right at the same minute. With the help of the /function Allbuilds command, the player can get all the buildings at once, while their location will be like in a real city.
By typing /function help, players can get information about options and the location of buildings. Heroes will be able to choose a convenient and comfortable option for themselves. It can be a mansion with a garden or a swimming pool, an ultra-modern and large cottage, and even a rather impressive house.
The developers recommend that in order not to lose important information, create copies of all the worlds.
Structures
For those Minecraft PE players who do not want to limit themselves to buildings, although large enough, this update for Instant House Mod is suitable. In addition to buildings, it will also be possible to create all kinds of structures in it. For example, huge trees, boats and ships, and even balloons.
To get a new building, the player will need to enter the command /function house_ and then any number from 1 to 13. For plants, everything is the same, but with the word tree_.
How do I install this mod?

The file is in .mcaddon extension, so just tap on the file to automatically install the modification.

Can this mod be run in a multiplayer game?

Yes, for this it is enough just to be the owner of the card and install this modification on it.

What if the mod does not work?

Try to activate the experimental game mode.
download anchor
Download Instant House Mod for Minecraft PE