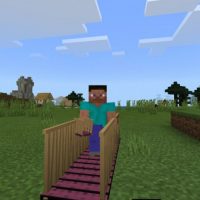 Bridge Mod for Minecraft PE
Version MCPE: 1.16.0 - 1.20.40
Download
Download Bridge Mod for Minecraft PE: explore the cubic world and use new features for this.
What is new in Bridge Mod?
Traveling through the boundless world of Minecraft PE, players face many challenges and activities. On the way, there may be high mountains and deep caves, as well as many water bodies. At the same time, they can be quite impressive in size and the question arises: to continue the further path or to look for another direction.
In this case, the Bridge Mod will come to the rescue, in which the authors give players the opportunity to create a convenient structure for themselves in a matter of seconds, which will allow them to move to the other side of a river or a deep ravine.
New features
In order to build a crossing in Minecraft PE, players have to put a lot of effort. First, users need to stand on the edge of a cliff, which can be quite dangerous. Or figure out how to create supports so that the building is stable and does not break down during use.
Or completely abandon the movement in this direction because of the inability to continue the journey. In such a situation, the Bridge Mod will be useful, which includes 12 variants of buildings made of various materials at once. From bamboo and birch to metal. It is enough to put one block at the beginning and one at the end, while the length can be any.
In order to get all the features, use the /function all_bridges command.
Instant
Another upgrade option for Bridge Mod allows you to create an instant ferry construction. It is enough to install one block on the edge of the cliff and click on it, construction will automatically begin. Pressing again will stop the process.
Thus, Minecraft PE players will be able to quickly and effortlessly create new functional objects that will help in the development of the endless cubic world. Start the process right now.
How do I install this Bridge Mod?

The file is in .mcaddon extension, so just tap on the file to automatically install the modification.

Can this mod be run in a multiplayer game?

Yes, for this it is enough just to be the owner of the card and install this modification on it.

What if the mod does not work?

Try to activate the experimental game mode.
Download Bridge Mod for Minecraft PE