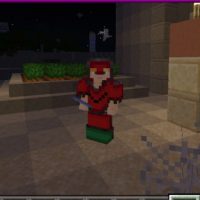 Soul Mod for Minecraft PE
Version MCPE: 1.16.0 - 1.20.32
Download
Download Soul Mod for Minecraft PE: use new weapons and armor to face powerful and very dangerous opponents.
What is interesting in Soul Mod?
The authors of Soul Mod offer to diversify the standard selection of weapons and equipment, which has not been changed or updated by developers in Minecraft PE for a long time. All items have various magical properties that make them very powerful and incredibly interesting to use.
But not just like that, all these objects appeared in the cubic world. The fact is that they are necessary to fight extremely dangerous and strong opponents. Some of them look like Warden or Dragons that have already become familiar to users, while others will have a rather unusual appearance.
Soul Mod
The name, of Soul Mod, is wholly based on the soul and its application options. For example, new unusual armor and weapons have magical abilities. Minecraft PE players will also have new items at their disposal, with the help of which it will be possible to tame new mobs.
But most of the creatures this add-on adds to the game are extremely dangerous and players will need to fight with them. You can find all the items and equipment in the Inventory of the Creative Mode.
Magical Warfare
As you know, in Minecraft PE there are such dangerous creatures as Warden or Zombies that players have to fight. But after installing this update for Soul Mod, they will receive a unique weapon that will help summon these monsters and they will fight on the side of the hero.
The staff of dark power can be used in various battles, including PVP battles. In any case, it will help its owner to always remain the winner, in any fight. All variants of weapons can be found in the Inventory and immediately used in the gameplay.
The strongest of them summons a whole horde of powerful creatures that will fight on the player's side.
How do I install this Soul Mod?

The file is in .mcaddon extension, so just tap on the file to automatically install the modification.

Can this mod be run in a multiplayer game?

Yes, for this it is enough just to be the owner of the map and install this modification on it.

What if the mod does not work?

Try to activate the experimental game mode.
download anchor
Download Soul Mod for Minecraft PE