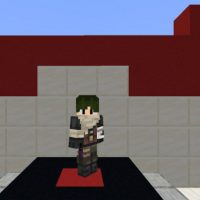 TNT Map for Minecraft PE
Version MCPE: 1.16.0 - 1.20.32
Download
Download TNT Map for Minecraft PE: have fun with your friends on the most explosive tests, and spend time having fun and interesting.
What is interesting in TNT Map?
The authors of TNT Map have come up with two test options for players that absolutely everyone will like. In the first case, Minecraft PE heroes will test their running abilities, because their life will depend on the speed of movement on the site.
The second version of the game is a well-known game of tag, but only surrounded by a huge number of explosive blocks. The presenter will chase after the other participants and try to touch them with an Iron Rod, thus passing it to the next player.
Whoever has this item at the end of a certain time will be considered a loser. Invite as many friends as possible as soon as possible to arrange the most memorable and cool adventures together. Use all the opportunities to win these challenges.
Run Re-Mastered
The main task of the Minecraft PE player in this update for TNT Map is that he must run as fast as possible and not stop. The fact is that the entire surface consists of explosive blocks that explode as soon as one of the players is on them.
You can play endlessly because the authors have provided a restart function. Also, when you appear at a location in the lobby, there are several buttons that not only launch tests but can also change settings or install additional functions.
TNT Tag
This time the gameplay will combine the game of tag and the explosiveness of dynamite blocks. The number of Minecraft PE players present at this TNT Map challenge is unlimited.
The more, the better. One of the players who will become the leader will be randomly selected. He will always have a special baton in his hands, with which he will hit the other participants. Each round lasts 45 seconds and the one who has the rod in his hands after this time loses.
How to install TNT Map for Minecraft PE?

In order to install the map, you need to move it to the address games/com.mojang/minecraftWorlds.

Can I use this map with my friends?

Yes, the map can be used for a multiplayer game.

Can i use the map in the survival mode?

Yes, the map is suitable for the survival mode.
download anchor
Download TNT Map for Minecraft PE