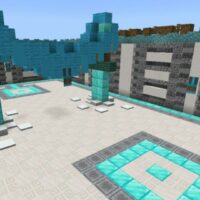 Duel Map for Minecraft PE
Version MCPE: 1.2.0 - 1.20.32
Download
Download Duel Map for Minecraft PE: show all your fighting abilities, improve your fighting skills, and be sure to defeat all your opponents.
Duel Map for Minecraft Bedrock Edition
For those players who would like to improve their skills, as well as practice with friends, Duel Map is perfect.
Also, this update will allow you to find out which of the Minecraft PE players is the best fighter and try out various weapons and equipment in action. Invite your friends to have a cool and fun time together with your favorite game.
The Duel
The developers were inspired to create this mini-game for Duel Map by Cowboy Battles. To begin with, two participants must join the game. Then click on the button and when the melody starts, start moving forward. When the music changes, quickly turn around and start shooting at your opponent.
This update is a great opportunity for Minecraft PE players to find out who is the most accurate and virtuoso shooter.
LG
Another great addition is to find out which of the Minecraft PE players is the most agile fighter. The authors of Duel Map have created everything necessary to make the process of battles convenient and diverse. In the lobby, there is also an opportunity to set the status level for each of the participants.
To start the test, you need at least two players, after that, you can start a one-on-one battle.
Duel PvP
After installing this update for Duel Map, the Minecraft Bedrock Edition player will immediately be offered one of five sets of weapons, equipment, and special items. Each of them corresponds to a certain arena, on which the participants will fight later.
For example, Crystal PvP includes netherite armor, explosion protection, and 5 immortality totems. For the battle, it is proposed to use a pickaxe made of the same material as the armor. By the way, there are also levels of Netherite OP, Axe, Bow, and Sword.
How to download Duel Map?

Tap the file and open it in Minecraft PE.

Can I use this map with my friends?

Yes, the map can be used for a multiplayer game.

Can i use the map in the survival mode?

Yes, the map is suitable for the survival mode.
download anchor
Download Duel Map for Minecraft PE