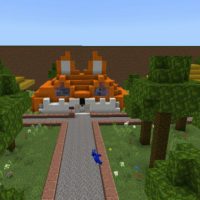 Sonic Map for Minecraft PE
Version MCPE: 1.16.0 - 1.20.15
Download
Download Sonic Map for Minecraft PE: explore unique locations that were based on the favorite game of everyone or test your skills in parkour.
What is interesting in Sonic Map?
Explore a huge and exciting world. It is created based on the popular game about the adventures of the fastest hedgehog in the universe. It is now available to every Minecraft PE user.
The authors of Sonic Map have placed rather unusual buildings on the territory. The heroes will find not only very unusual interiors but a lot of cool items. They will see unique inhabitants, called Chao.
Test your skill and cope with all the challenges alone or together with friends. The wonderful world will open its doors only to the most attentive heroes of the cubic world.
Adventures
The best way to pass the tests that the authors of this update have prepared for Sonic Map is in the company of loyal friends. Minecraft PE players on the territory of the location are waiting for exciting parkour-style adventures. They are based on the Sonic game.
Users will be remembered each of the tests for interesting gameplay. And full immersion in the original story about the brave hero.
Sonic Map
After installing this Sonic Map add-on, players will have a chance to visit the buildings. The author of this addition was inspired to create by the game of the same name. Hidden rooms that not everyone will immediately notice will add intrigue and surprises to the exploration of this location.
In one of these rooms, there will be an amazing garden. It is inhabited by creatures unprecedented for Minecraft PE. The developer has filled each of the buildings with various items that will create an atmosphere of the original story.
Make your adventures unique and unusual right now. Go on a journey right now and find something new in each of the buildings. One of them will be completely dedicated to the main Sonic villain named Eggman.
It is a hotel with many different rooms. The heroes are invited to visit right now.
How to download Sonic Map?

Tap the file and open it in Minecraft PE.

Can I use this map with my friends?

Yes, the map can be used for a multiplayer game.

Can i use the map in the survival mode?

Yes, the map is suitable for the survival mode.
download anchor
Download Sonic Map for Minecraft PE