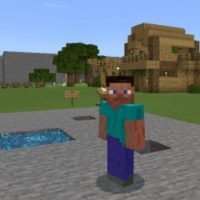 Maze Runner Map for Minecraft PE
Version MCPE: 1.16.0 - 1.19.63
Download
Download Maze Runner Map for Minecraft PE: try to survive and get to the exit of the maze, which is full of dangers and traps.
What is interesting in the Maze Runner Map?
Maze Runner Map is based on a movie series of the same name. The story is about a group of teenagers who find themselves in a mysterious and dangerous world.
From which they can get out only by going through the maze. This series of films has many fans, so the developers decided to recreate this storyline in the world of Minecraft PE.
Despite the fact that this is a very difficult map, its passage will be a new interesting adventure for players. Moreover, users can pass the map together with friends.
Camp
The hero gets into the Maze Runner Map for Minecraft PE with the help of an underwater elevator. Several survival tools will be immediately available to the player. By the way, the doors to the camp are closed at night, it is better for the hero to come back before that time.
The camp has a campfire site, several buildings, and a book with instructions. Also, various pets live in the pens, which can be useful for obtaining provisions.
This map is really not for beginners, because its passage will be a very difficult test for the hero.
Maze
First of all, a player will need to find a way out of the first four mazes in Maze Runner Map.
The hero needs to collect red wool blocks, they will be codes. When the player collects three codes, they will need to be installed at the end to go to Maze number nine.
But the hero should be very careful because this maze is incredibly difficult to pass. Many traps and dangers await him in this place.
When the hero finds himself in the Maze number nine, he will need to find the button. Then he will have 40 minutes to find a way out before the doors close.
By the way, users can pass this test in Minecraft PE with friends, together with figuring out how to get to the exit.
The Maze Trial
In this update for Maze Runner Map for Minecraft PE, the hero also enters the camp first. He will stay in it for four days until access to the maze opens.
The hero can kill mobs, but he cannot destroy blocks and climb them.
After the gates to the maze opens, the hero will be able to gradually explore it and immerse himself in an exciting journey.
How to download Maze Runner Map?

Tap the file and open it in Minecraft PE.

Can I use this map with my friends?

Yes, the map can be used for a multiplayer game.

Can i use the map in the survival mode?

Yes, the map is suitable for the survival mode.
Download Maze Runner Map for Minecraft PE